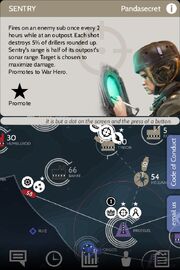 Abilities
Edit
In Game Text
Edit
 Flavor Text
Edit
It is but a dot on the screen and the press of a button.
Interactions/Notes/Combos 
Edit
Stacking Edit
The Sentry's ability does stack and will each target a sub (sometimes the same sub).
Multiple Sentry's fire in order, not simultaneously. Each will assess the field with each shot.
The Sentry's range is modified by the Princess and Intelligence Officer. The Sentry's range will be what ever the total combined range of all the specialists is.
For example, if an outpost is modified by an Intelligence Officer and has a Princess...
| Stat | Modifier |
| --- | --- |
| Initial Range: | 100% |
| Intelligence Officer: | +25% |
| Princess: | +50% |
| Total Outpost Range: | 175% |
| Sentry: | 50% of outpost total |
| Total Sentry Range: | 87.5% of initial outpost total |
Strategies Edit
But be careful to not attack the outpost itself containing the sentry in sets of 20 as a Sentry can be promoted to a War Hero- wiping out your fleet.