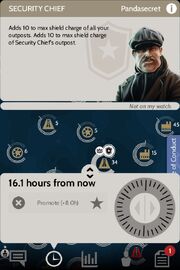 Abilities
Edit
Global effect: +10 to max shield charge of your outposts
Local effect: +10 to max shield charge at stationed outpost
Promoted from: Inspector
In Game Text
Edit
Adds 10 to max shield charge of all your outposts. Adds 10 to max shield charge of Security Chief's outpost.
Interactions/Notes/Combos 
Edit
Combos
Combos well with it's pre-promotion status, Inspector. Having a Smuggler, Inspector, and Security Chief in one sub will allow you to have a fast moving 20 shield bonus for defense which instantly recharges. Note that this can also be achieved with the Queen and King, as they both cumulatively add 20 shield.
Does not stack well with King, unless turtling in one outpost. Two Security Chief global abilities are needed to outweigh the cost of a single King's global effect. However, if stacking in one outpost, having a Queen, King, and Security Chief totals up 60 shield.
Stacking
Multiple Security Chief's Global Abilities do stack.
| Security Chief(s) | Added to Shield Max | When Present |
| --- | --- | --- |
| 1 | 10 | 20 |
| 2 | 20 | 40 |
| 3 | 30 | 60 |