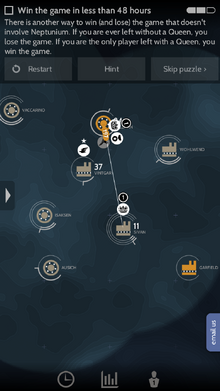 Diplomacy 3 is the 19th of the 24 Puzzles in Subterfuge.
Description
Edit
Ensure your ally keeps Kyburz.
Production at Kyburz has stalled because your ally's driller count exceeds their electrical output. Unless you do something, this will result in your ally losing control of Kyburz. Find a way to help your ally maintain control of Kyburz.
If your ally had another generator, their electrical output would increase and their driller production would resume.
To see the solution click Expand below.
To do
Lower your shields in Calhammer
Move the two troops in Calhammer to Sivan as a gift
DANCE PARTY!